About Us Onlinebetting360.in – Who Are We?
Hey! We are the onlinebetting360.in editorial team, and we are focused on helping Indians choose the best betting sites promoting the best of Indian betting companies. We thoroughly review the newest and most popular betting sites before recommending them, and we highlight the best betting bonuses. Deposit bonuses, free bets, cashback on losses, matched free bets, risk-free bets – we cover it all. In short, we are here to present you with the best Indian betting sites.
What really keeps us going and ensures versatile content is our readers. We value reader comments and provide ratings from genuine gamers in our tests and reviews. Each review aims to include as many impressions and experiences as possible.
Our Team
These reviews and betting sites are brought to you by two experienced betting professionals – Hemal and Viraj. Let's meet them both!
Hemal – editorial director and a passionate gym-bunny
I began my writing career in college when I was earning a degree in anthropology and wrote random posts for a local news agency and several other companies. As a linguistic anthropology student, I was researching the many ways in which people communicate around the world. But then I decided to combine my major with my passion – sports.
And that is how I started focusing on sports articles, and using my knowledge to try my hand at betting. At one point the only logical step from there was a sport writing for the betting industry. What I love the most about it is, that a sports fan's passion for the game can stretch from pre-game planning and predictions to game viewing, replays, highlights, and post-game discussion. Sports writing plays an important part in raising anticipation and providing fans with knowledge about the people who make their favorite sport possible.
Viraj – deputy director and a techno freak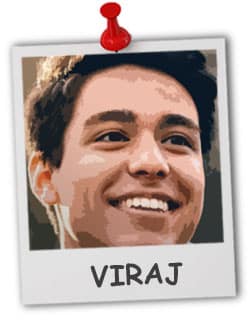 I grew up in a regular Indian family – I have two sisters, parents, and a grandfather, who plays a special role in my life. He always used to distribute in detail every electrical device that was bought, then he assembled it back and only then started using it. Radio, coffee machine, blowdryer – you name it! Everything had to undergo this special check-up.
This interest in how things work didn't end at my home appliances and electronics either. Whenever I use anything, I need to know how it works, and I love explaining complex things in a simple manner to my friends and family. Betting bonuses can be a bit confusing, which is why I love explaining how they work and which ones should our writers choose to get the most benefit!
Our independent test reports, as well as the most thorough tests
In our reviews, we verify the security and licensing of a betting site, test the payment methods and try contacting the support. We play with our own money in our test reports and document the entire sign-up and betting procedure with snapshots or recordings from conversation history. We would like to guide you through exactly what to expect when you join a betting site.
Best betting bonuses and reputable, trustworthy bookmakers
Some players may have previously discovered that a betting bonus is not necessarily fair. And it is exactly these deceptive promises that must be separated from the good ones. We feature only bonuses that we feel are beneficial to the players and have transparent, fair terms and conditions.
You may also contribute to onlinebetting360.in by sharing your experiences
As we already have stated in the introduction, the information on our website is based on more than just our editorial team's work. We would really want to get our readers active and involved. Because the truth is – we can only develop a fair overall image if we can capture the true experiences of the community. Send an email to info (a) onlinebetting360.in if you'd like to share your personal experiences with us or the betting sites featured here. We want to hear from you.